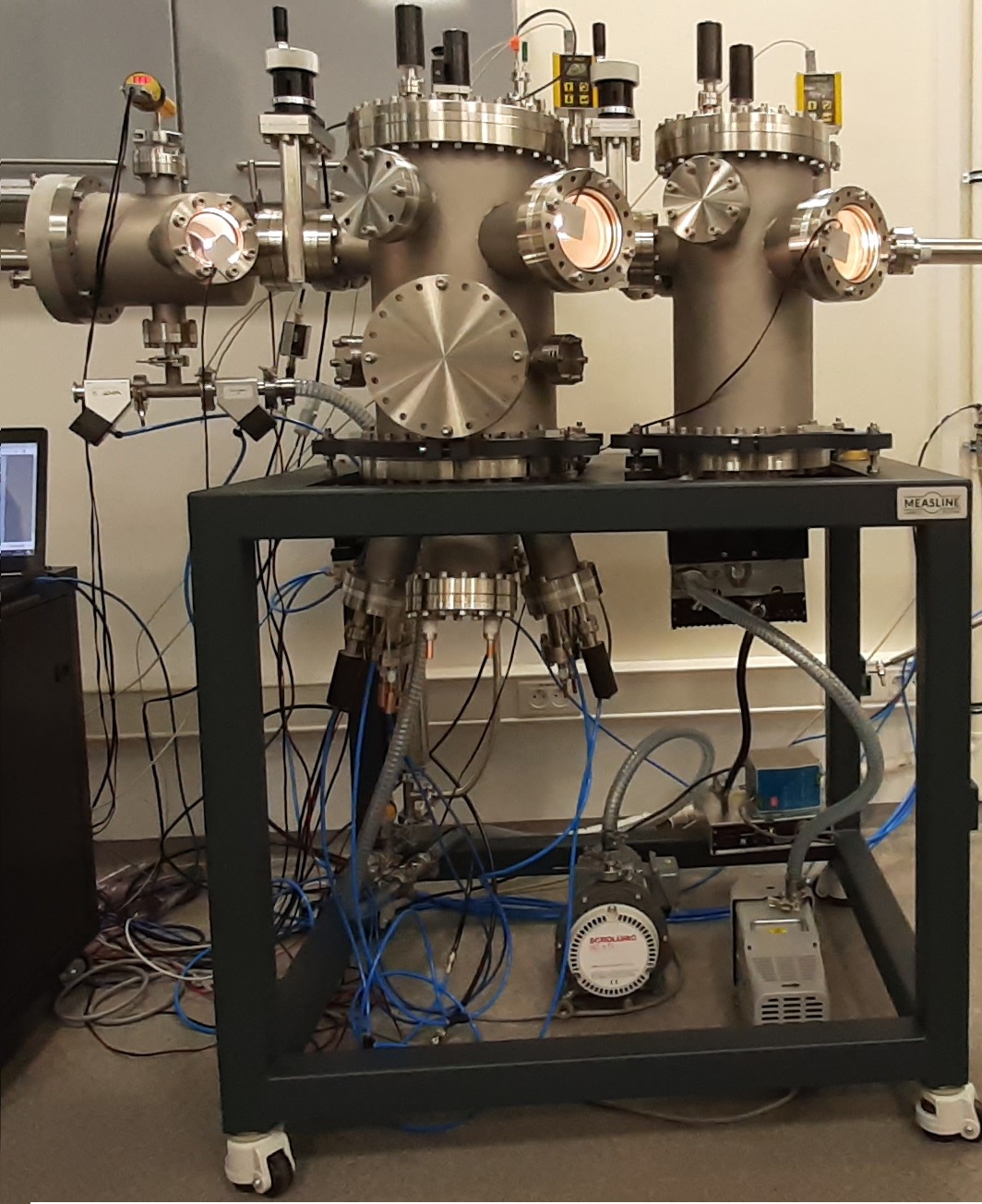 Compact sputtering system for surface metallization 
A compact vacuum sputtering system for surface metalization consisting of three chambers enables the application of layers by thermal and ion sputtering. The device is equipped with a container for transferring samples in controlled atmosphere conditions between the sputtering machine and the glove box or for storing them in controlled atmosphere conditions.
The most significant device features:
Intended for layer deposition with the PVD physical vapor deposition technique
Sample loading chamber used for insertion and removal of samples to the deposition chamber in a protective gas shield
A sample loaded into a container, e.g., in a glove box in a protective gas atmosphere, can be transferred to the sputtering chamber under strictly controlled conditions
Thermal deposition chamber with 1-3 thermal evaporators
Sputter deposition chamber equipped with a magnetron
Chambers made in HV standard
Analysis of the thickness of the applied layers with a resolution of sub nm using a quartz balance
Sample holder adapted to substrates with maximum dimensions of 50×50. For smaller substrates, masks cut from steel sheets with a thickness of 0.1 mm to 0.5 mm can be used. Masks provide stabilization of the position of smaller substrates during transfer and rotation. The arrangement of holes in the mask can be adapted to the substrates.
Specification:
Loading chamber
Pumping down the chamber
with a dry pump, below 0.1 mbar in 5 minutes
Vacuum measurement

using a Pirani head integrated with a membrane head in the range from 1∙10ˉ³ mbar to atmospheric pressure

Thermal deposition chamber

Thermal transfer source

basket-shaped crucibles with thermal shields and shutters, with the possibility of measuring and stabilizing the temperature of the filament

boat-shaped tungsten crucible with a shutter

Tungsten crucible supply
up to 200 A
Ensuring the uniformity of layers

use of a rotary table

Temperature of samples during deposition
stabilized in the range from room temperature to 400°C
Pump system

turbomolecular with a pumping rate not less than 60l/s

Vacuum measurement

using an ionization head with a hot cathode.

Sputtering chamber
Sputtering source
magnetron 2″
It is possible to replace it with a 1″ magnetron
Magnetron power supply

DC 600W

Gas dosing valve
manual
Ensuring the uniformity of layers

use of a rotary table

Temperature of samples during deposition
stabilized in the range from room temperature to 400°C
Vacuum measurement

using a Pirani head integrated with a membrane head in the range from 1∙10ˉ³ mbar to atmospheric pressure